Western city Sikluv Mlyn at Tatralandia and aqua parks Liptov
In our locality there are situated two large aqua parks Liptov. Aqua park Bešeoová is about 15 minutes away by car and aqua park Tatralandia is about 12 minutes away from our apartment by car. You can find here Western city Sikluv mlyn, aqua park, holiday village, Tarzania. Our apartment is sutable accommodation not far away from well known atarctions - aqua parks Liptov. We offer you short description about " Western city Sikluv Mlyn ".
Family apartment TATRAS in the heart of Low Tatras
WESTERN CITY Sikluv Mlyn - Tatralandia 10 minutes away from accommodation by car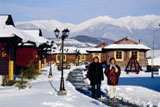 Main lure of this atraction is natural theater for 3000 visitors. There are dayly offered programs that consists from variable entertaitments. In wooden town is situated western street that ends in the square. Here are provided main atractions.
In Mexico city you will find Mexico hall with tipical savoury delicious meal and sell of souvenirs. Atmosphere of streets is described by citizens dressed in past time costumes. The wild west is described by indian directly from Dakota. In indian settlement you can find original typs a totems.
Aroun all areal there is driving train Unon Pacific. You can try hard worku of gold diggers, ride a horse or shoot from longbow.
There is possibility to accommodate yourself at " holiday village " or hotel.
Opened : all year round
Western city Sikluv Mlyn and it`s buildings :
PRESENTATION OF A TOWN 10 minutes away from accommodation by car
There are offered several buildings : main building of the town " Saloon ". It is a bar and restaurant with menu of kowboy kitchen specials. We know that saloons were french famous enterprises width a program of cabaret. In times of gold diggers sloons were shacks or tents where people meets themselves. Then it growed up and were popular.
Building Sheriff is a groun floor office styled designed with exponats of vepens, scales and prison.
The bank is situated in white building. In theese times thiefs did not know to read. That is why they painted banks white to have no troubles with them.
Cawboy hall is openned restaurant with special menu and open fire.
Natural theater is mostly visited part of town. Dayly there are played several different shows.
Small church is nonexacting desined.
Bar U Hrobára is striking restaurant that lives mainly in the evening. Wilde kawboys and shooters meets themselves here.
General Store is small shop with necessity for kawboys, jewellery for indiens and souvenirs for you.
Union Pacific is a railway station for train that takes you for a trip around town.
Hire a costumes - you can find here variable costumes as indien`s or baroko`s...
Traper - is a wooden shack with animal terarium and sell a souvenirs.
Steak House El Paso - mexican restaurant with a delicious kitchen. You will realy not be cold.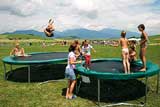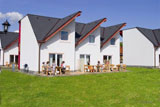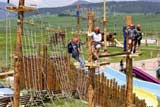 Western city Sikluv Mlyn - program
PORGRAM 10 minutes away from accommodation by car
In dayly program you will see:
From 10:00 program in areal during all day: "STREET SHOW"
11:30 Western show in out door theatre ( till 12:30 ) " HOLLYWOOD "
13:30 Action entertitment in out door theatre ( till 14:30 ) " BIG SHERIFF "
16:00 Big Western show in out door theatre ( till 17:00 ) " HOLLYWOOD & animal show "
18:30 Action entertitment in out door theatre ( till 19:30 ) " WINETOU´S BAD DAY "
21:00 Night fire show in out door theatre ( till 21:45 ) "PYROTECHNICAL SHOW " (tu, th, sa)
21:00 Action nighet enterteitment in out door theatre ( till 21:45) "A BOX WITH DYNAMIT" (we,fri)
* WE CAN CHANGE PROGRAM ANYWAY*
Western city Sikluv Mlyn is atraction situated next to aqua park Tatralandia :
THERMAL AQUA PARKS LIPTOV - TATRALANDIA 10 minutes away from accommodation by car.


This aqua park is the largest one in Slovakia and from surounded states( Poland, Czech ). Aqua park is opened all year round thanks to thermal water which uprised over 40 milion years ago. Minerl water nicely influances for moving organism and breathing ways. Nine types and largements of swimming pools six of them are opend all year with water temperature 26 and 38°C, two of them are indoors. Cca 2 km away from Liptovsky Mikulas. Possibility to accommodate yourself in areal - ( Holiday village ).
Tel.: +421/44/547 78 11
Fax.: +421/44/547 78 10
e-mail: info@tatralandia.sk
Accommodation is possible in next to areal holiday village - Tatralandia too.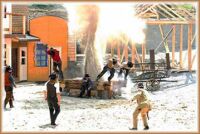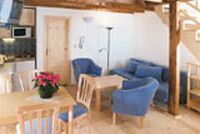 You can take a bath in "vital world" with beautifull environment and watter rehabilitation procedurs.
Is it possible to spend beautifull holiday in Liptov? Mountains are here waiting for you: watter dem, aqua parks Liptov and at least many small ski resorts. Jasna - Chopok is the largest in area and it is about 15 km away from accommodation. Western city Sikluv Mlyn takes care about pleasantry for all day and all year round too. Swimming and pleasantary in style of country life suitable supplements sport spend day. Aqua parks Liptov invites you with programs for rest and pleasantry for families even with children. Aqua park Besenova offeres swimming and some rehabilitation services and hotel accommodation too. So aqua parks Liptov represents theese two localities of aqua parks.