accommodation Liptov Tatras mountains holiday
accommodation Liptov - Get the best Slovakia can offer - travel Tatras mountains or go for holiday in Slovakia towards to direct town Liptovsky Mikulas by train then by bus to Zavazna Poruba or simply by car. The apartment is situated only few meters from bus stop and up to 800 m from ski resort Opalisko.
PRIVATE VACATION APARTMENT - Tatras mountains
It is easy to get there.
Direction : Liptovsky Mikulas road E50, D1
Distances : Bratislava - SK cc. 290 km, Brno - CZ cc. 310 km Varszaw - PL cc. 485 km, Viena - A cc. 320 km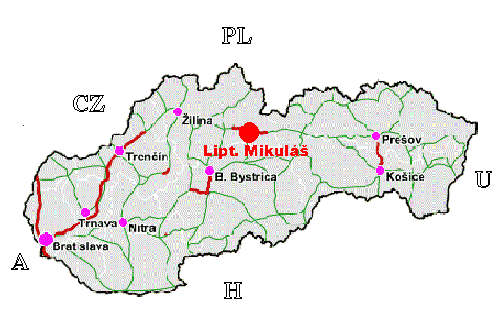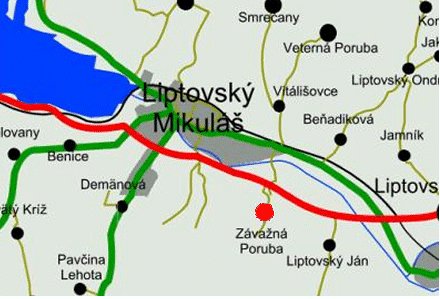 Send this interesting site to your friend
This page describes you how easy you can travel to Tatras mountains to reach our apartment - accommodation Liptov. Pictures points acurate place of the apartment. Click some of the other pages aviable on this site to increase your overview about area. Do not hezitate contact us for further informations. Accommodation Liptov offered by us promisses you pleasent and confortable stay with many activities to do. Travel to Tatras mountains! We offer accommodation Liptov and comfortable stay.
Accommodation Liptov means holiday Tatras mountains with many opportunities to do. Just travel Tatras to get the best from holiday Slovakia Tatras mountains. You will find accommodation of all types. We offer accommodation Liptov in apartment situated in Low Tatras / village Zavazna Poruba. Travel Tatras is as easy as possible. There is choice of train, bus, plain, car. Why to travel Tatras ? Beautifull mountains with so meny activity to do. We offer accommodation Liptov in this magnificant area. To get comfortable holiday Slovakia Tatras mountains in our apartment. Accommodation Liptov has meanning of many atractions you can visite in the region. Especialy caves, thermal aqua parks openned all year round, ski resorts, rehabilitation services.
Recommanded service: Prešov Region, Slovakia - holiday homes, holiday apartments, holiday villas, self catering Holiday homes throughout Europe: more than 95 lovely holiday homes and holiday apartments Prešov Region. Cheap from 119,00 GBP / week.
Tatras mountains informations
accommodation Liptov - offeres many attractions, activities that makes your stay not tedious
travel to Tatras mountains that promisses healthy holiday
holiday Slovakia Tatras mountains - this means not only tours in around Tatras mountains bud accommodation Liptov near bus stop too.